Our Story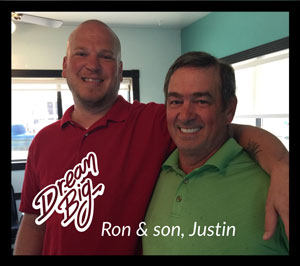 Do you remember old-fashioned values? Good food? Good times?
Remember when nobody was prettier than Mom?
Do you remember when running through the sprinkler was all the entertainment you needed?
An ice cream cone on a warm summer's eve?
A cherry coke from the fountain at the corner drug store?
Remember when listening to Superman on the radio was all there was? When around the corner seemed far away, and going downtown seemed like going somewhere?
Remember when your friends and family dined together? And enjoyed it? Do you remember laughing so hard that your stomach hurt? Remember that?
Remember when Diners were real, and food wasn't fast?
Choate's Family Diner is a classic American restaurant that remembers when.
Serving delicious breakfasts, lunches, and dinners for over 18 years in Jerome, Idaho - Choate's remembers when!
Choate's is locally owned and operated by Ron Choate. Monday through Saturday you can see Ron's bright shiny smile in the window making our customers hot, fresh, food fast. Through the years all six of Ron's children have worked at the diner plus two nieces and three great-nieces! Currently, Ron's son, Justin runs the night crew and he is just as handsome as Ron!
We work hard to bring quality food to the Magic Valley with value serving breakfast, lunch and supper. We have three employees who have been with us for over 17 of years! The Choate's belief is that if you treat your employees and customers well, both will keep coming back!
Ron Choate was born and raised in Michigan. After graduation Ron worked for eight years with the Elias Bros. Big Boy Restaurant chain, as a cook at the Lapeer Big Boy, then as a manager of the Romeo Boy. Ron and his family (which includes six children) moved to Apache Junction, Arizona & bought a partnership in the Sonic Drive-In. They spent most of the next fifteen years in Arizona.
In 1982, Ron packed up the family, moved to Idaho, bought what was formerly The Wrangler and changed the name to Choate's Family Diner.
In the ensuing years Ron has done several things to the restaurant to make it a successful little venture. The old awning from the car hop days was torn down, an old house was removed to enlarge the parking lot, restrooms were relocated to inside the diner, and recently, the exterior of the building was remodeled.
We look forward to serving Jerome and the surrounding communities well into the future!
Check back soon for more info about our restaurant's history, including videos, and more.